Hello there ATB friends!  I'm happy to announce that Team ATB has joined forces with the Frilly and Funkie DT for the "Hip to be Square" challenge!  It's going to be a "Block Hop" filled with creative Artist Trading Block inspiration!  The Frilly and Funkie DT kicked the challenge off with a serious BANG yesterday.  You can check out their amazing Artist Trading Blocks HERE.
Today, it's Team ATB's turn to take a crack at the "Hip to be Square" challenge and I'm sure you'll agree Oxana knocked it out of the park with this lovely Artist Trading Block Charm!  How cool is this?  It sure is "Hip" to be a square you can wear!
Oxana's designs are never lacking in detail.  You'll keep going back again and again so you don't miss a thing.  I spy Tim Holtz remnant rub charms, pen nibs, hitch fasteners…oh my!  Stop by Oxana's blog for more fabulous details and steps on this gorgeous Artist Trading Block Charm!
You can enter the "Hip to be Square" Challenge (and get a heaping dose of ATB inspiration while you're at it) at Frilly and Funkie HERE  For all your creative ventures ATB or otherwise you'll find must have supplies at The Funkie Junkie Boutique.  If you enjoy hard to find supplies and fast shipping this is THE place to shop
 Enter your "Hip to be Square" creations for a chance at a shopping spree to the Funkie Junkie Boutique!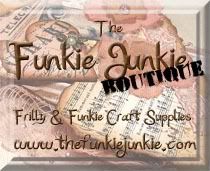 Stop by the
Frilly and Funkie Blog
today to see an over the top amazing Steampunk ATB from Guest Designer Kerstin!  Prepare to be amazed!
Want to "double-down" on your chances to win crafty prizes?  The Art with Heart Challenge this month is "Anything Goes" so come by and link up!  While you are there you can preview the soon to be released New Sizzix Collection from Eileen Hull…Vintage Kitchen!  One lucky winner will receive a die of their choice from Vintage Kitchen once it's released.
We'll be back next week with more amazing Artist Trading Blocks from Team ATB and Frilly & Funkie!
Amy*